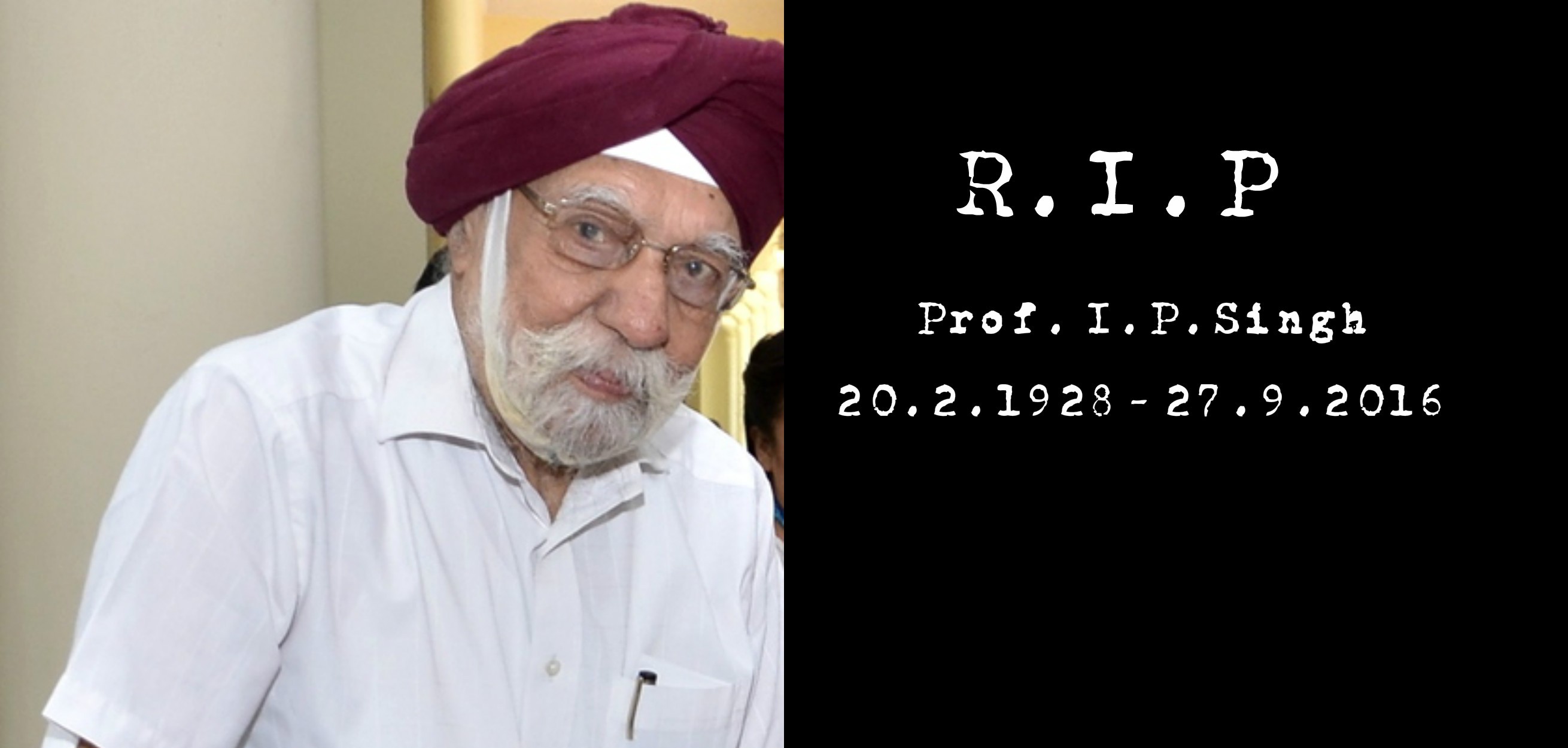 In Memoriam
Professor (Dr.) Indera P. Singh served the University of Delhi on the faculty of the Department of Anthropology from 1 September 1953 to 19 February 1993. An alumnus of Hindu College, University of Delhi, where he studied for his I.Sc. (Medical), he completed his Master's in anthropology in 1950, being a member of the second batch of students who did their post-graduation in anthropology from the University of Delhi. Before he joined as a lecturer in anthropology at Delhi, he received specialized training in anthropology from Franz Weidenreich Anthropologiche Institut, Universitat Frankfurt, Germany, for two years, 1950-2.

Professor Singh finished his doctorate in 1959, being the first student to earn this degree in anthropology from the University of Delhi. In addition, he also completed a Certificate of Proficiency in Russian language and literature from Delhi. He joined the Delhi Department of Anthropology as a lecturer in 1953, became a reader in 1961, and professor in 1971. He was also a Research Assistant with Ford Foundation for six months from 1952 to 1953.

He was the Head of the Department of Anthropology from 16 June 1968 to 6 June 1979, and from 4 April 1981 to 3 April 1984. During this period, he built many laboratories in the Department, particularly those of cytogenetics, forensic, physiological, and molecular. He was instrumental in building up collaborations with scholars in Germany, some of whom visited India, helping him in building up laboratories and training the staff members and research students in methods of advanced genetics. As a result of these collaborations, some members of the Department had an opportunity to visit Germany, and start joint research projects.

Professor Singh also served the University as the Dean of the Faculty of Science from 1971-3, 1973-5, and 1983-4. He was also the Proctor of the University of Delhi from 1973 to 1992, perhaps the only person to have served the University in that capacity for the longest period. He was the Chairman of the Delhi University Sports Council from 1981-93. He was also the Chairman of the Board of Residence, Health and Discipline of the University of Delhi, from 1973-93. For many years, he was also the Chairman of the Gwyer Hall Management Committee. He also served as a member of the Governing Bodies of many colleges affiliated to the University of Delhi, the prominent being Satyawati College, Hamdard College of Pharmacy, Shyam Lal College, St. Stephen's College, Lady Irwin College, and the Institute of Home Economics. He was a member of the Executive Council, from 1973-92, of the University Court, from 1959-93, and of the Academic Council for more than twenty years.

In the academic front, he was the President respectively of the Indian Anthropological Association, Indian Society for Human Ecology, and Indian Dermatoglyphic Association. He was a Vice-President of the Lucknow-based Ethnographic and Folk Culture Society. He was a Fellow of the Indian Social Science Academy, and a Member of the Asian Association of Bioethics, Tokyo (Japan). He was the Regional Commissioner for South Asia Regional Group of the International Commission on the Anthropology of Food and Food Problems. He was the Associate Secretary General, International Union of Anthropological and Ethnological Sciences, and also served as a member of the International Commission of Urban Anthropology. He was also a member respectively of International Commission on Documentation, Council for Nutritional Anthropology, American Anthropological Association, Indian Academy of Sciences, and International Council for Scientific Development.

Professor Singh was also the Director, Summer Institute, National and International Seminars; he served the Tenth International Congress of Anthropological Sciences as its Secretary General; he was also the General Secretary (Local), Indian Science Congress Association, 1975. He was the Chairman of the Eleventh UNESCO Conference of International Voluntary Work Camp Organizations.

In his long academic life, Professor Singh successfully supervised thirty-three doctoral students and three M.Phil. dissertations, besides guiding an umpteen number of Master's dissertations. He completed eight research projects that different national and international bodies had awarded. He did extensive fieldwork in different parts of north India and north-western Himalayas. He is well known in the world of anthropology as one of the few anthropologists who tried to integrate the different branches of anthropology; and this would explain why he researched different branches of anthropology and why his students worked on a variety of topics. He is oft consulted for his writings on a Sikh village in Punjab; after his retirement, he carried out a restudy of this village, and was in the process of writing up a book on it before his sad demise. In total he has published five books, the most well-known is titled Anthropometry, and 202 articles. Since he was closely associated with the University Grants Commission, he was instrumental in founding many departments of anthropology in the country.

Professor Singh was not only an institution-builder, but also an institution himself. He taught a variety of courses, one of which happened to be on research methods. I still remember the episodes he used to recite in his lectures from the field studies he had carried out in the villages of Punjab and Delhi, and then look at their methodological implications. In support of my conclusion that he was an outstanding fieldworker and one of the best in establishing rapport with local people, I bring to your kind notice my memories of a visit to Rani Khera, the village in north-west Delhi which made Oscar Lewis a household name in Indian anthropology. Accompanying us was Professor John van Willigen, the author of Applied Anthropology, a professor from Kentucky, who was affiliated to our Department as a visiting faculty.

We drove to Rani Khera in the morning. Throughout our journey from the University of Delhi campus, Professor Singh narrated the major details of the village, especially how its economy had undergone a change because of mushroom farming. We also came to know that Professor Singh was in touch with the people from Rani Khera and many of the boys from this village were able to get employment in the University of Delhi and its affiliated colleges because of his intervention. What impressed us greatly was the fact that Professor Singh remembered the names of his informants of those days.

We reached the house of one of his key respondents. He was extremely gracious, courteous and humble. Profusely thanking Professor Singh for his visit, he guided us to his inner room where a couple of yellowed picture hang on a dusty wall, which had Professor Singh and the elders of the respondent in its frame. And then, he started telling us, relishing each of its details, about the days when Professor Singh used to visit Rani Khera for data collection. As I was translating all this for the benefit of Professor van Willigen, the latter interrupted me with the following words, "How interesting! They [the people of Rani Khera] all remember I.P. Singh, and not my teacher, Oscar Lewis!" Whichever house we visited, people recognized Professor Singh, and fed us generously.

Till quite recently, Professor Singh used to visit the Department to participate in seminars and make useful comments. He was exemplarily active after his retirement from the University and was a model for emulation. Professor P.C. Joshi and I warm heartedly remember the day when in a seminar that the Department had organized in August 2013, Professor Singh presented a kaleidoscopic account of the village of Daleka, based on his restudy that was funded by the Indian Council of Social Science Research. The other paper presenters in that session which Professor Joshi and I chaired were young research students, some even close to one-fourth of his age. They were enthralled and deeply touched by the fact that their great grand-teacher was presenting his paper along with them. Professor Singh's humility was the matter of talk later. Memories of association with him crystallizing in my mind and soul make me fuller than I am.

Professor Singh was an excellent person, committed wholeheartedly to the ethic of equality and justice. Never was a single occasion of ritual performance in the family of a member of the Department where he was not present. He was the longest serving head of the Department after Professor P.C. Biswas, and was an occupant of several administrative positions in the University, but he was less an embodiment of power, more an apotheosis of love, care, concern, and humanism. The Department will remain eternally grateful to him.

Vinay Kumar Srivastava,
Department of Anthropology,
University of Delhi.