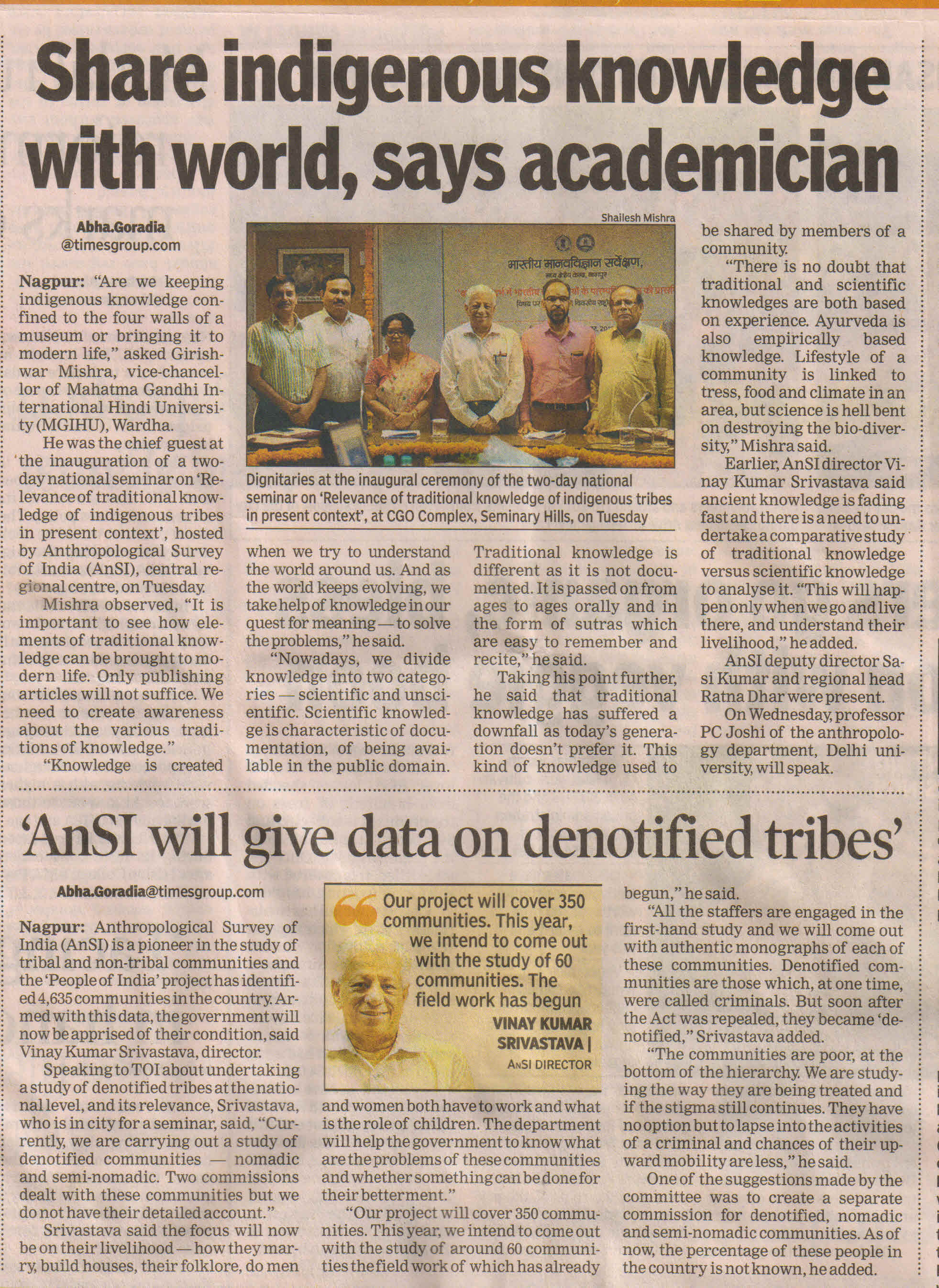 Share indigenous knowledge with world Nagpur Times, Wednesday September 26, 2018.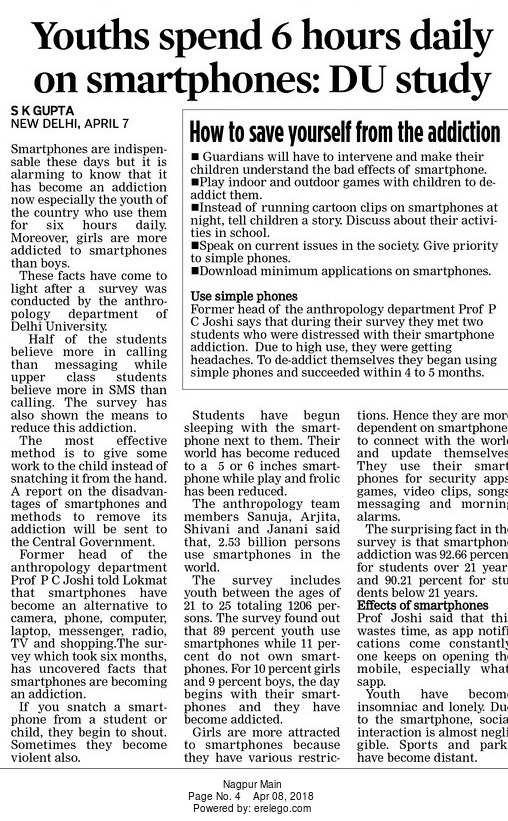 A project report compiled by the students of B.Sc. (H) Anthropology Part -II, 'Smartphone usage and addiction among the students of Delhi University' was published in Lokmat Times, April 7, 2018.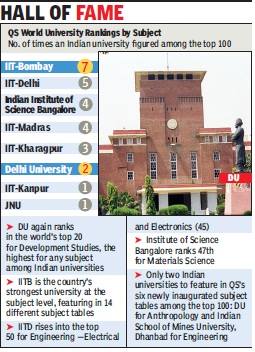 Department of Anthropology, University of Delhi, features among the top 100 in QS world ranking.
Click here for details .Read more on Times of India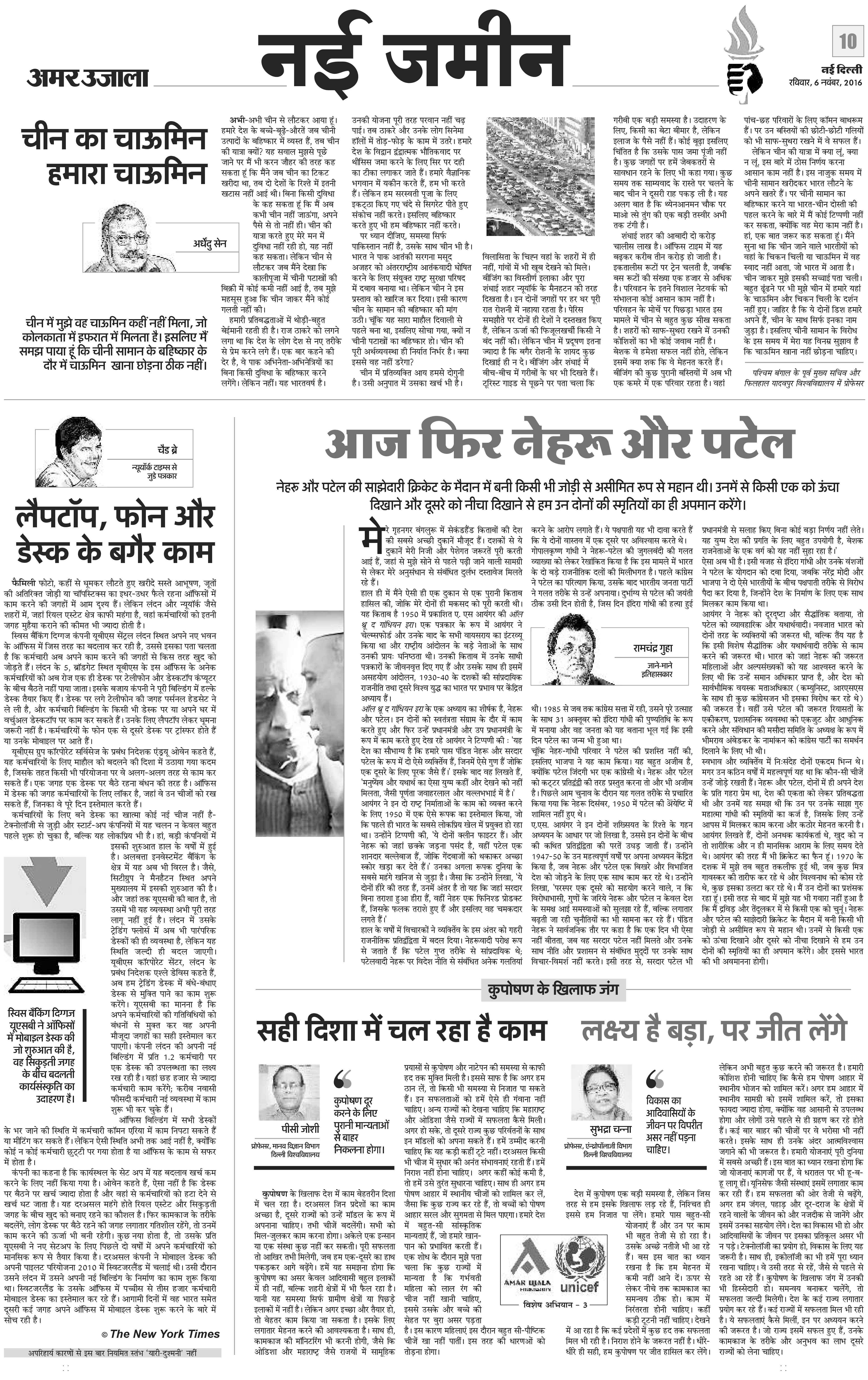 On the 6th of November issue of newspaper Amar Ujala, news regarding malnutrition in India appeared in which views of Prof. P. C. Joshi and Prof. Subhadra Channa (Anthropology, DU) were given. Both suggested that for programmes aimed at removal of malnutrition need to take into account the locally available food items and continuity in the programmes.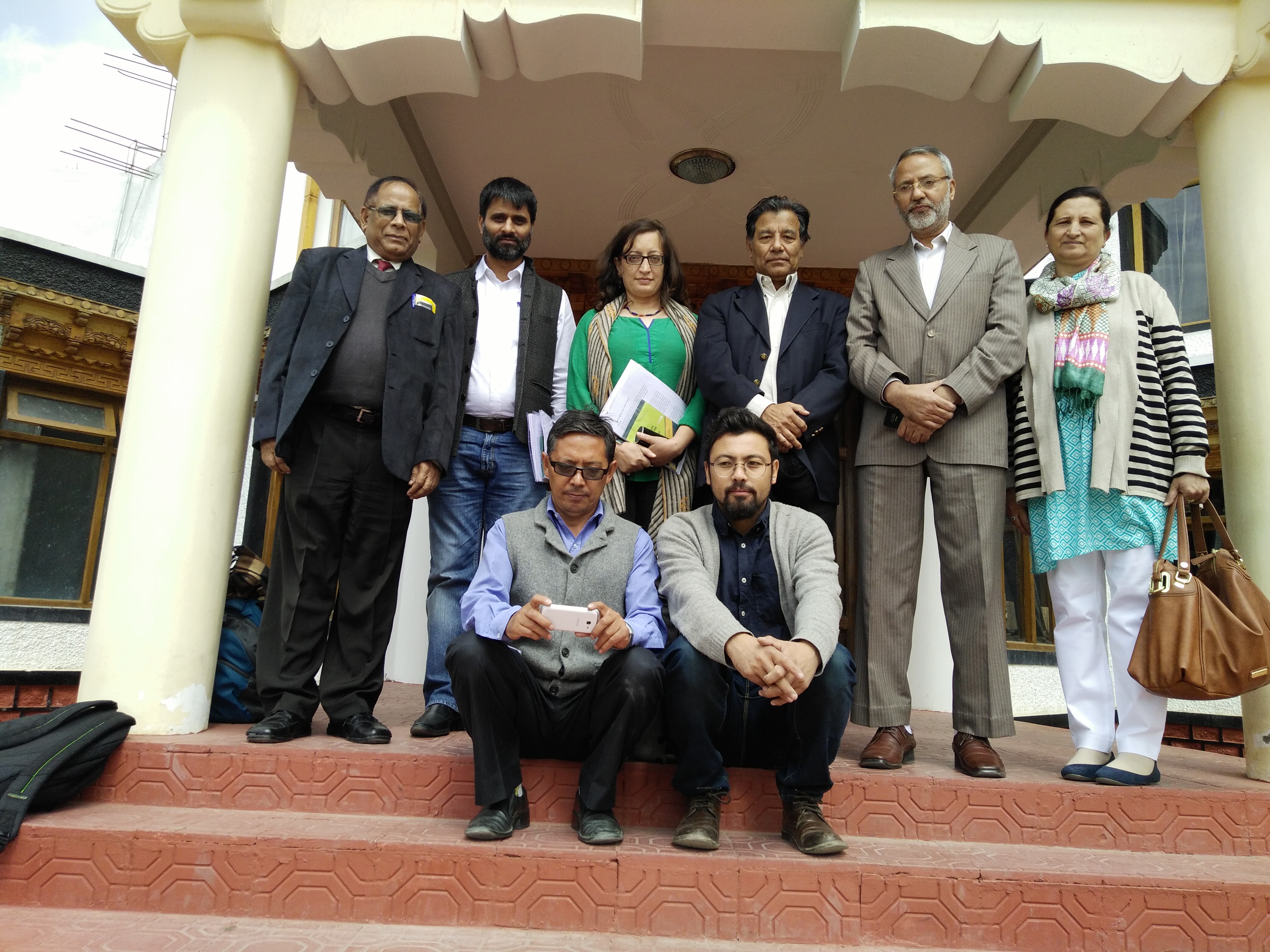 Prof. P. C. Joshi (standing at the extreme left) visited Leh, L adakh on 22-23 September, 2016 to participate in intensive discussions on Ladakh and Gilgit-Baltistan Relations organized by the Islamic University of Science and Technology, Awantipora, Kashmir. Besides Prof. Joshi, other notable participants in the meeting were Prof. Mushtaq A. Siddiqi, Vice Chancellor, IUST, Prof. Siddiq Wahid, Ex-VC, IUST and a well know Central Asia expert, Prof. Kazi, IUST, Dr. Urfat A. Mir, Ambedkar University, New Delhi, Dr. Sonam Joldan, Rinchil Shah Centre for Western Himalayan Culture, IUST and Mr. Tashi, Researcher, JNU, New Delhi.The meeting discussed impact of trade cessation between Ladakh and Central Asia through Gilgit and Baltistan on one hand and between India and Tibet on the other. In the social relations, the emergence of Divided Families at the border villages was identified as another major feature in the anthropo-historical study of this region.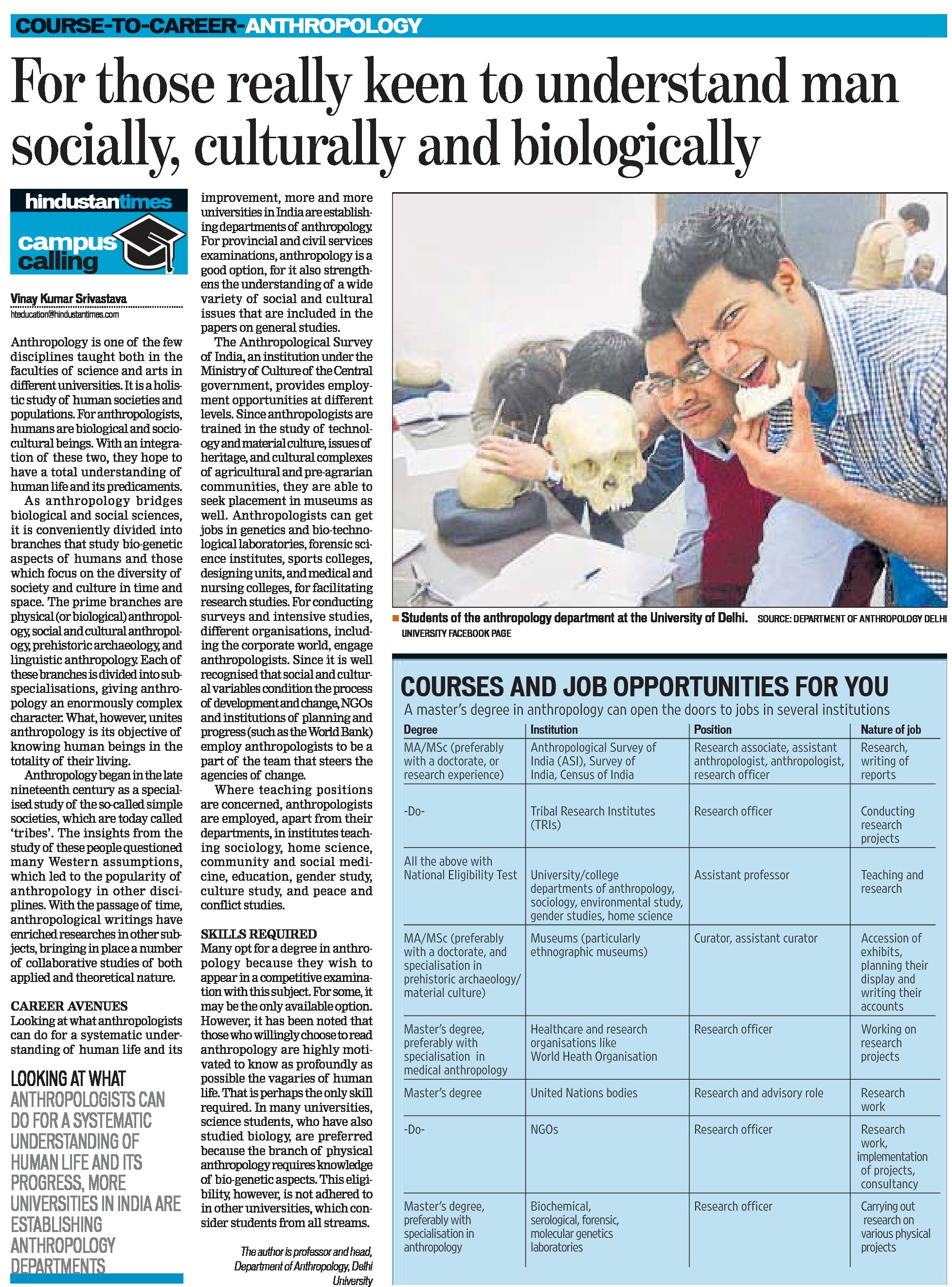 Anthropology: Courses and job opportunities
Published by Hindustan Times 11 May 2016.



Anthropology catches up with NE students

Yamuna Biodiversity Park has emerged as a jewel in the crown in the eco-system restoration activities of Delhi. Restoration ecology is an exciting science and Prof. C. R. Babu is the chief architect of this idea which has come up as living monument of biodiversity conservation. In an era when the urban space of Delhi is being carpeted with the ornamental and exotic horticultural and floricultural landscape, the biodiversity part is coming up as an oasis for the fast diminishing faunal species of Delhi and its surrounding areas. The students of B.Sc. (Honours) Part III Anthropology have done a commendable task in giving a very detailed attention to the scientific and applied value of this landmark.
Prof. P. C. Joshi
Click here to read

The National Daily Rashtriya Sahara, published a special feature on "People of India" under special issue of Hastakshep on the Independence Day, 15 August, 2015.
Prominent anthropologists from India contributed on different themes pertaining to people of India.
People of India_page 1
People of India_page 2
People of India_page 3
People of India_page 4
People of India_page 5
People of India_page 6
English Version




The national Hindi daily Nav Bharat Times on 17th July 2015 published a report on India's DNA highlighting the importance of Anthropological Survey of India's People of India project especially in contemporary times. The report has highlighted views of Prof. P. C. Joshi. Read more




State Control, Political Manipulations, and the Creation of Identities:The North-East of India
Paper presented at a conference titled 'Diversities and Connections: Reconsidering ethnic boundaries in Northeast India', held at the Nehru Memorial Museum and Library, 6–7 February 2014
~Prof. Subhadra Mitra Channa.Click here to read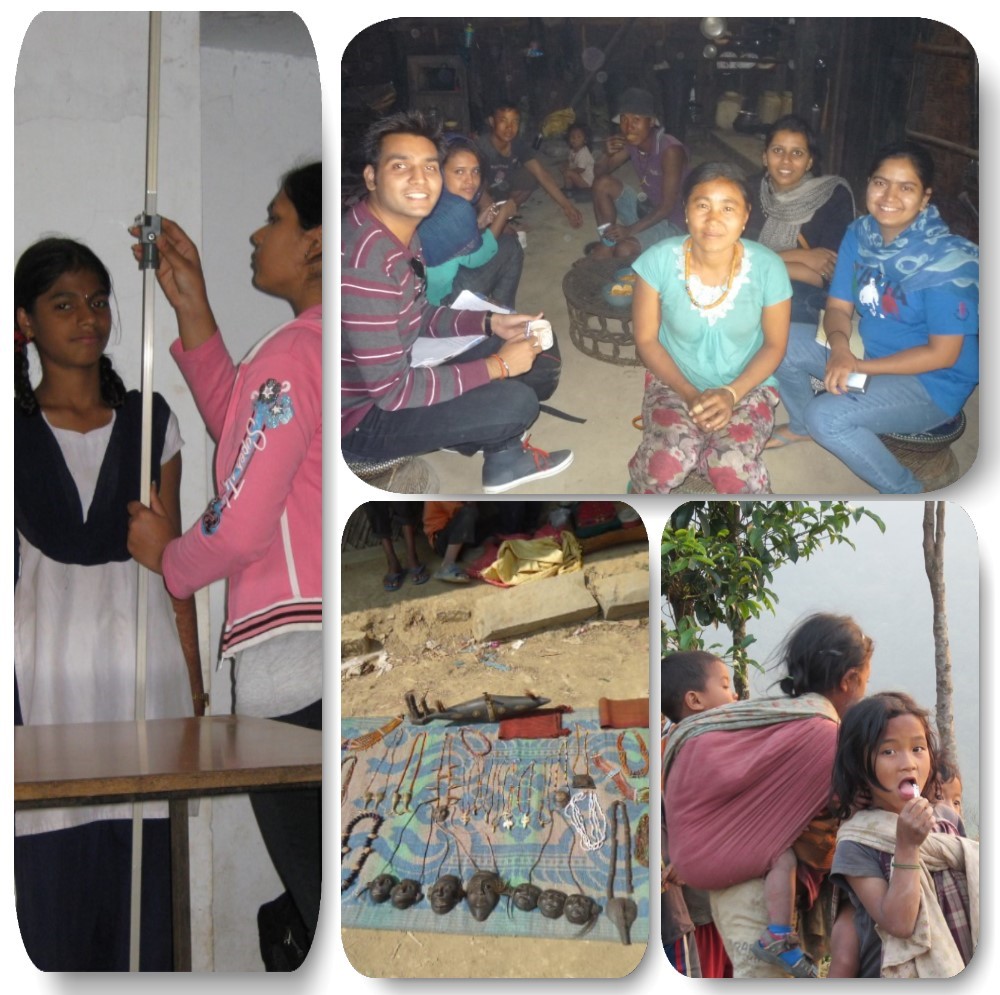 Measuring men and matter

A wide spectrum of sub-branches has added to the opportunities available for students opting for anthropology. ~Prof. Subhadra Channa. Read more




"Any given gene will be associated with a particular trait, be it for learning something new or determining one's height. But genes behave differently in different environments. Indian immigrants in the US would already have a certain level of economic and educational status", states Dr. Saraswathie assistant professor in the department of anthropology at the University of Delhi.
"Children of such parents would obviously have the genetic disposition to learn and given the right nurturing environment, they are likely to succeed." Read more